Hello everyone!!! VultureKing here with a new Fanon coming up! This one is the Legend of Sapphire which branches off from my other Fanon called the Legend of Onyx. Get ready to go deeper into the story with new characters, locations, and shocking new secrets.
Plot
After their fight against Ruby, things have seemed peaceful in the universe. But when a new threat arrives which threatens to destroy the universe, they must join together to fight back again. But when things get worse, they must join forces with an old enemy to fight back but things get even more crazy when there greatest enemy joins forces to stop an even greater threat
You included!!!!!!!!
If you haven't seen my last season I gave people an opportunity to send ideas to me and have them appear in the episodes. This is going to continue in this series and hopefully we get tons of new and interesting ideas.
Main Characters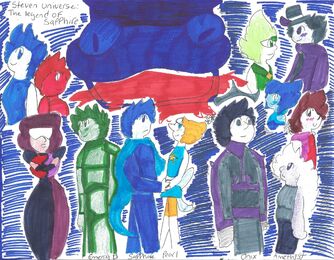 Steven
Lapis Lazuli
Rose Quartz
Garnet
Amethyst
Pearl
Onyx
Sapphire
Emerald
Carnelian
Labradorite
Lepidolite
Jade
Purple Topaz
Jasper
Peridot
Amber
Dragon Opal
Tiger Eye
Ella
Sean
Charoite
Hematite
List of Episodes
Trivia
WARNING! SPOILERS MAY AHEAD!
This is a continuation of The Legend of Onyx.
Sapphire comes back to life.
Sapphire marries with Pearl.
Peridot and Jasper join the Crystal Gems.
There is a crossover episode with a fanon made by marie568 known as Steven and The Galaxy Gems.
Ruby will make a return.
Garnet will reveal to the others she is a fusion.
Emerald and Garnet break up but will come back together.
Jade begins to have feelings for Sapphire.
Steven is 15 but turns to 16 in the series.
The episode "Friend or Foe" was made to honor a close friend of Vultureking named JinxBinx.
In the episode "Forever One", Garnet becomes a regular gem instead of a fusion.
Dragon Opal ends up falling in love with Sean.
Sean and Dragon Opal's relationship is a reference to Rose and Greg.
Ad blocker interference detected!
Wikia is a free-to-use site that makes money from advertising. We have a modified experience for viewers using ad blockers

Wikia is not accessible if you've made further modifications. Remove the custom ad blocker rule(s) and the page will load as expected.