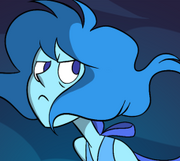 The SBF Fandom is Spongebobfan123's fandom. In this fandom, episodes will follow the events of
Peridot (Canon)
and
Lapis Lazuli (Canon)
's transition to being Crystal Gems. There will also be a few other random episodes.
Main Characters
Garnet
Pearl
Amethyst
Steven
Lapis Lazuli
Peridot
Episodes
Season 1
Frenemy - Steven finds Peridot hiding and talks to her.
Welcome Aboard - The Crystal Gems are shocked to find Lapis and Peridot on a stretch of beach.
A New Home - Peridot and Lapis settle in the Temple.
Fun at Funland - Peridot and Lapis spend a day at Funland.
Broken Memories - A flashback episode of when Peridot was called to work by Yellow Diamond.
TBA
Return to Keystone - When Peridot and Lapis get into a fight, Steven thinks that taking them to Keystone Motel will help fix things.
Fusion Practice- Upon learning that Peridot has never fused before, Steven is determined to get Lapis and Peridot to fuse.
TBA
TBA
Season 2
TBA
Alien Attraction - Ronaldo falls head over heels for Peridot much to her dismay. Also, he thinks she's a intergalactic alien warrior.
Season 3
Hazy Hook-Up - Peridot and Lapis have a human stay over for a night, but Peridot finds herself becoming attached.
TBA
Main Differences
Steven is shown to have more control over summoning his shield.
Peridot is reveled to have been just recently created and therefore is very young.
Lapis is freed from the ocean and is living with the gems.
Peridot, having been abandoned by Yellow Diamond, also reluctantly joins the gems.
Pearl and Amethyst seem to fight less implying Pearlmethyst
Lapidot is canon as well.
Yellowdot is confirmed in a flashback episode, but it is one sided.
Ad blocker interference detected!
Wikia is a free-to-use site that makes money from advertising. We have a modified experience for viewers using ad blockers

Wikia is not accessible if you've made further modifications. Remove the custom ad blocker rule(s) and the page will load as expected.