This is Boygemgirlgem's Gemsona.
Petschite
[[File:

Characteristics

Race

Gem

Weapon(s)

Daggers

Gender Pronoun

She/Her

Traits

Gemstone

Petschite

Professional Status

Affiliation(s)

Personal Status

Status

Active

Friend(s)

Media

First Appearance
Music Theme
Image Credit

Boygemgirlgem
Petschite is a gem from the original gem world. She is a collector of ancient gem artifacts.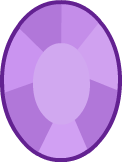 Appearance
Petschite has very light purple skin. Her hair is a light purple. She has a purple sleeveless shirt with a turtle neck reaching the top of her neck. The shirt has 3 triangles that become lighter as they go down. Se has armbands that are half dark purple and half light purple. She has a light purple skirt and purple leggings.
Personality
Petschite is usually quiet and kind. She is often smiling. She wants everyone to be happy, se says.
Relationships
Petschite is friends with Ussingite, although Ussingite is a thief and Petschite is a collector.
Lorandite trained Petschite to use her gem, after finding her trapped under a rock.
Abilities
Like all Gems, Petschite can shapeshift, summon a weapon, and retreat to her gemstone to regenerate.
Her weapon is a handful of daggers, which on stabbing, make the living thing hit become dazed, or it explodes. She can also make one giant dagger, and when thrown down, it explodes. When she is angry she begins to float and the wind becomes uncontrollable around her. She has wind power.
Trivia
Petschite is a young gem, though she is from the empire of the original gem world. 
Petschite is related to the unknown Scapolite. 
Ad blocker interference detected!
Wikia is a free-to-use site that makes money from advertising. We have a modified experience for viewers using ad blockers

Wikia is not accessible if you've made further modifications. Remove the custom ad blocker rule(s) and the page will load as expected.