This is Boygemgirlgem's Gemsona.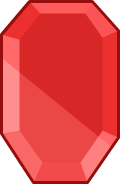 Lorandite
Nickname(s)

Loraine (500 years ago)

Characteristics

Race

Gem

Weapon(s)

Staff

Gender Pronoun

She/Her

Traits

Gemstone

Lorandite

Professional Status

Affiliation(s)

Gem Homeworld

Personal Status

Status

Active

Media

First Appearance

"Welcome To Kindergarten"

Voice Actor

Susan Egan

Image Credit

Boygemgirlgem
Lorandite is a gem from the original gem world. She lives in a pocket dimension named Cherri, where every animal exists, but all of the animals are red.
Appearance
Lorandite has light red skin. Her outfit includes a dress that is tightened by red bands on her torso and waist area. She has long red strawberry colored hair.
Personality
Lorandite doesn't talk much, but she will always help. She is a 'go with the flow' type.
Abilities
Lorandite can transform like all gems.
Her weapon is a staff that can turn the thing it hits into whatever she likes. It can also be used to block attacks or open an entrance to her dimension.
Trivia
Lorandite is a neutral gem.
Ad blocker interference detected!
Wikia is a free-to-use site that makes money from advertising. We have a modified experience for viewers using ad blockers

Wikia is not accessible if you've made further modifications. Remove the custom ad blocker rule(s) and the page will load as expected.