This is Emerald.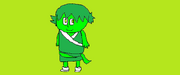 Appearance
She has spiky hair and one string of hair on top of her head. She has spiky hands and is very very green. She wears a kimono that's light green. Her gem is on her hand.
Personality
A very caustic, emotional, and aggro person.
Weapon
Her weapon is a deathscythe. She can grab it by rubbing her palm and it comes out easily.
Trivia
She is friends with Spessartite.
She is friends with Aquamarine.
Her first appearance was in The Beast parts 1 and 2.
Gallery
Ad blocker interference detected!
Wikia is a free-to-use site that makes money from advertising. We have a modified experience for viewers using ad blockers

Wikia is not accessible if you've made further modifications. Remove the custom ad blocker rule(s) and the page will load as expected.