Dumortierite Quartz
Nickname(s)

Characteristics

Race

Fusion Gem

Weapon(s)

Spiked Polearm

Gender Pronoun

Female

Traits

Handedness

Ambidextrous

Gemstone

Dumortierite Quartz

Professional Status

Affiliation(s)

Crystal Gems

Media

First Appearance
Voice Actor

Michaela Dietz Jamie Marchi
Dumortierite Quartz is a fusion gem between Amethyst and Aventurine. She first appears in the fanon episode, "Fusion Horror".
Appearance
Dumortierite Quartz is a grey-blue fusion gem that dons two pairs of arms and a semi-fused gem, Dumortierite Quartz. She has light grey-blue skin and dark grey-blue spiked hair, her eyes have pupils and are the colour of Aventurine's eyes. Her outfit is a fusion between Amethyst's and Aventurine's and in dark blue colours.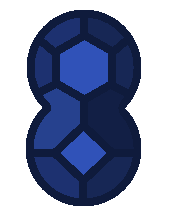 Personality
Dumortierite Quartz has a personality of both Gems, indicating that she is an unstable fusion. Her personality switches between Amethyst's and Aventurine throughout the episode , this includes their voices, and is very destructive.
Abilities
All gems and fusion gems have the ability to summon a weapon, shapeshift, fuse with other gems and retreat to their gemstone after becoming injured to heal, this is shown in Garnet. Activating her gems summons a spiked polearm.
Trivia
Since Amethyst and Aventurine share the same spot for their gem and as their fusion is slightly unstable, their gems semi-fused together.
Both Amethyst and Aventurine are part of the Quartz family, therefore their fusion is also part of the Quartz family.
Ad blocker interference detected!
Wikia is a free-to-use site that makes money from advertising. We have a modified experience for viewers using ad blockers

Wikia is not accessible if you've made further modifications. Remove the custom ad blocker rule(s) and the page will load as expected.