Diamond
is the minor character from "
Gem Adventures!
"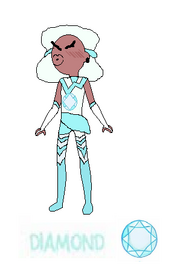 Abilities
Aerokinesis: She can create, shape and manipulate air, common name given to the layer of atmospheric gases and various compounds (mostly oxygen and nitrogen) surrounding the planet Earth that is retained by Earth's gravity, and wind, movement of air relative to the surface of the planet.
Force Field: A force-field is an invisible barrier conjured out of thin air.
Ad blocker interference detected!
Wikia is a free-to-use site that makes money from advertising. We have a modified experience for viewers using ad blockers

Wikia is not accessible if you've made further modifications. Remove the custom ad blocker rule(s) and the page will load as expected.