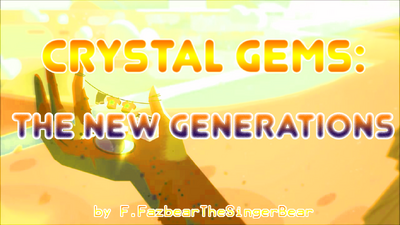 After being vanished to The Void, new generations of gems and Crystal Gems needs to be present to protect the earth from monsters corrupted gems and with the help of the legendary half human and half gem, Steven Universe, that's wont be impossible. This fanon has been created by the user Freddy.FBear.
Protagonists
Gems
New characters soon...
Episodes
Season 1- A new world is open!
| Episode Number | Episode name | Synopsis |
| --- | --- | --- |
|  Episode 1 | The Hero's town | The new Crystal Gems are in the hometown of the amazing Steven Universe, but our greatest hero doesn't know that yet. |
| Episode 2 | The Gem Beast | During a stormy night in Beach City, nothing it's better than terror stories, but while, Lazulite hides an terrible secret. |
|  Episode 3 | Another one | During a dangerous mission with Steven, the New Crystal Gems found one of your other friends. |
Gallery
Ad blocker interference detected!
Wikia is a free-to-use site that makes money from advertising. We have a modified experience for viewers using ad blockers

Wikia is not accessible if you've made further modifications. Remove the custom ad blocker rule(s) and the page will load as expected.