"Trying to discover my true Gemstone name? don't even bother trying. You are just wasting your time."
-Calim
Calim is a fan character. He is one of the main protagonists in LB Fandom.
Calim
Nickname(s)

Tentacled Spider (Steven Universe)

Characteristics

Race

Gem

Weapon(s)

Bow

Gender

Sexless

Gender Pronoun

Male

Traits

Gemstone

Unknown

Professional Status

Occupation(s)

Guardian

Personal Status

Status

Alive

Media

First Appearance

The Weird "Temple"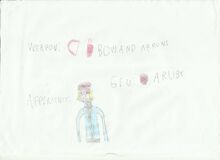 Appearence
Normal Pre-Reneration
He is based on an Character named "Calem" from Pokémon but with yellow hair, blue left eye and his right eye is a red gemstone.
Normal Post-Regeneration
After the "regeneration" of The Corruption, Calim got spiky black glasses, gray star in the chest, and the suit have more white details. It now has 2 dark blue crystals in his brown boots and a yellow star in top of the hat.
Corrupted
When corrupted, Calim is a big red spider. His mouth have 10 sharp fangs with 2 big sharp fangs about to leave the mouth. his body is now a big circle format thing. it has 8 small holes in the sides of the body, with tentacles coming out of them and replacing a normal spider's legs. The tentacles are showed to being able to enter inside his body when he uncorrupts.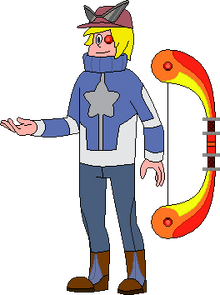 Relationships
Pearl
He and Pearl are the most intelligent and controled crystal gems, they dont talk much but act like team partners in serious problems, like the Marble Robot Invazion in The Stupid Gem
Garnet
He and garnet dont talk together.
Amethyst
Amethyst, Calim and Steven are great friends, dont have much to talk about his friendship.
Steven
He see a potential in Steven, but he help Steven when is a dengerous serious problem.
Lapis Lazuli
Lapis is Calim's crush. The name of the shipping of Calim and Lapis is "Lalim Cazuli" or just "Lalim".
Peridot
Calim and Peridot dont have relationship, but act like enemies.
Jasper
Calim hates Jasper because both have a crush on Lapis.
Pity
Pity is his pet, and problably best friend.
Onyx
Dont know much about their friendship together, but Onyx feels "secondary" duo this friendship.
Personality
He is happy sometimes and like to be with lapis and pick her hand. he REALLY cares for a serious/dangerous mission/problem and see potential Steven in the most of the time.
He tries to be positive and ignore problems, or just don't start more problems.
Abilities
Summon a Weapon - Calim's weapon is an Bow and an Quiver behind him.
Pyroknesys - Control lava
Color Absorbtion - He can absorb colors from things around him and use it to a lot of things. Most of them are recolor something or shoot colors at someone. He used this ability to recolor himself.
Kintergarden Call - When an drill from Kintergarden is activated, his gem will starts to glow.
Trivia
He dont have any star or crystal in his pre-regeneration suit.

He confirmed that he looks like the character "Calem" from Pokemon because is one of his favorite characters.
A subliminal message about his appearence has been released: pǝʇɟıɥsǝdɐɥssıɯɹoɟʎɯpuɐɹoloɔlɐǝɹʎɯʇousısıɥʇ
His Corrupted form is based on a "Pokemon" named "Shuckle", from the series Pokémon.
Most people thinks that he is Half Human because of his Color Pallete, but he only used Color Absorbtion on himself to make him like this.
Ad blocker interference detected!
Wikia is a free-to-use site that makes money from advertising. We have a modified experience for viewers using ad blockers

Wikia is not accessible if you've made further modifications. Remove the custom ad blocker rule(s) and the page will load as expected.